Permanent lip-liner is a semi-permanent make up treatment to define lip contours.
I love my visits with Sarah, not only does she make me feel beautiful! But she is soothing and relaxing. If you want to pamper yourself schedule time with one of Sarah's services today
Martha Dunning
May 13, 2018
I've been getting permanent makeup done for 10 years now, originally in New York. When I moved to Florida, I read the reviews on Sara and knew I had to try her. She's very professional, knowledgeable, makes you feel comfortable and is sweet to talk to! I'm in love with my lipliner (which gave my tiny lips a much better, fuller shape) and my eyebrows are perfect. I'm always VERY happy with my results! I highly recommend Sara!
Tammy Sebolka
November 2, 2017
How it works
A tattoo with pigment ink is used around the lip and fading into the middle, the middle part of the lips are untouched. Pigment is used instead of tattoo ink since it is thinker and give a more natural look.  
After treatment
The first couple of days the lips will be a bit swollen and can feel dry, so it can be good to plan the procedure not to close to a party or event. In total it takes around ten days for the complete healing process.
Price
Price: $480 – Touch-up included
Deposit: $104 (deductible, non refundable)
Contact
Microblading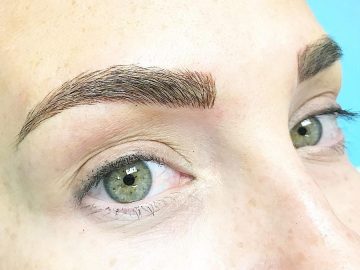 Besides eyelash extensions, we also offer microblading which is a permanent eyebrow tattoo using razor thin lines of pigments to create a most natural-looking eyebrow.