If you want permanent makeup in florida we here at florida microblading are highly experienced in most permanent makeup techniques.
How long does permanent makeup last
Most colors last for three to five years, but some may stay for a lot longer time than that.
I've hated my eyebrows since having them LASERED down to nothing in my 20s when thin was in. I was referred by a friend and thought about it long and hard before I went because…EYEBROWS. I mean if it were to be a hack job it would be pretty hard to hide. I checked out all of her work ahead of time and felt pretty confident when I booked. BEST MONEY I'VE EVER SPENT ON MYSELF. seriously. she really spent time making sure I was gonna love what was done. never felt rushed or pressured. after my second appointment for a touch up I am so happy. you can't tell where my natural brow hair ends and the microblading begins. I even looked in a high power mirror. can't tell. It's really amazing. highly highly highly recommend to everyone I know!
Sonora spivey
How it works
First, we offer a free consultation to answer any questions you might have and what you wish to do.
After the consultation we book a new meeting for the actual treatment.
After some time recovery and depending on treatment, we do a touch up for the final result.
BOOK NOW
Permanent makeup services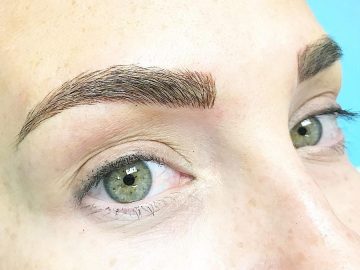 A permanent eyebrow tattoo using razor thin lines of pigments to create a most natural-looking eyebrow.
READ MORE
Shading
Eyebrow shading technique is a perfect way to give your microbladed eyebrows a semi-permanent makeup effect that allows you not to worry about shading them regularly.
Permanent eyeliner is a type of permanent makeup which applies tattoo on the eyelid to resemble makeup.
READ MORE
Ombré
Ombré brows are the very latest in cosmetic tattooing after booming in popularity after emerging from Eastern Europe and arriving in the USA. The technique is designed to take the ombre hair trend - where locks are darker at the top and become gradually lighter.
Lip blush
Semi-permanent make up treatment to flush color to your lips.
Lip liner
Semi-permanent make up treatment to define lip contours.
READ MORE
Contact
For any questions, free consultation or booking - please contact me!
CONTACT